Omlet z kozim serem, tymiankiem i morelami w miodzie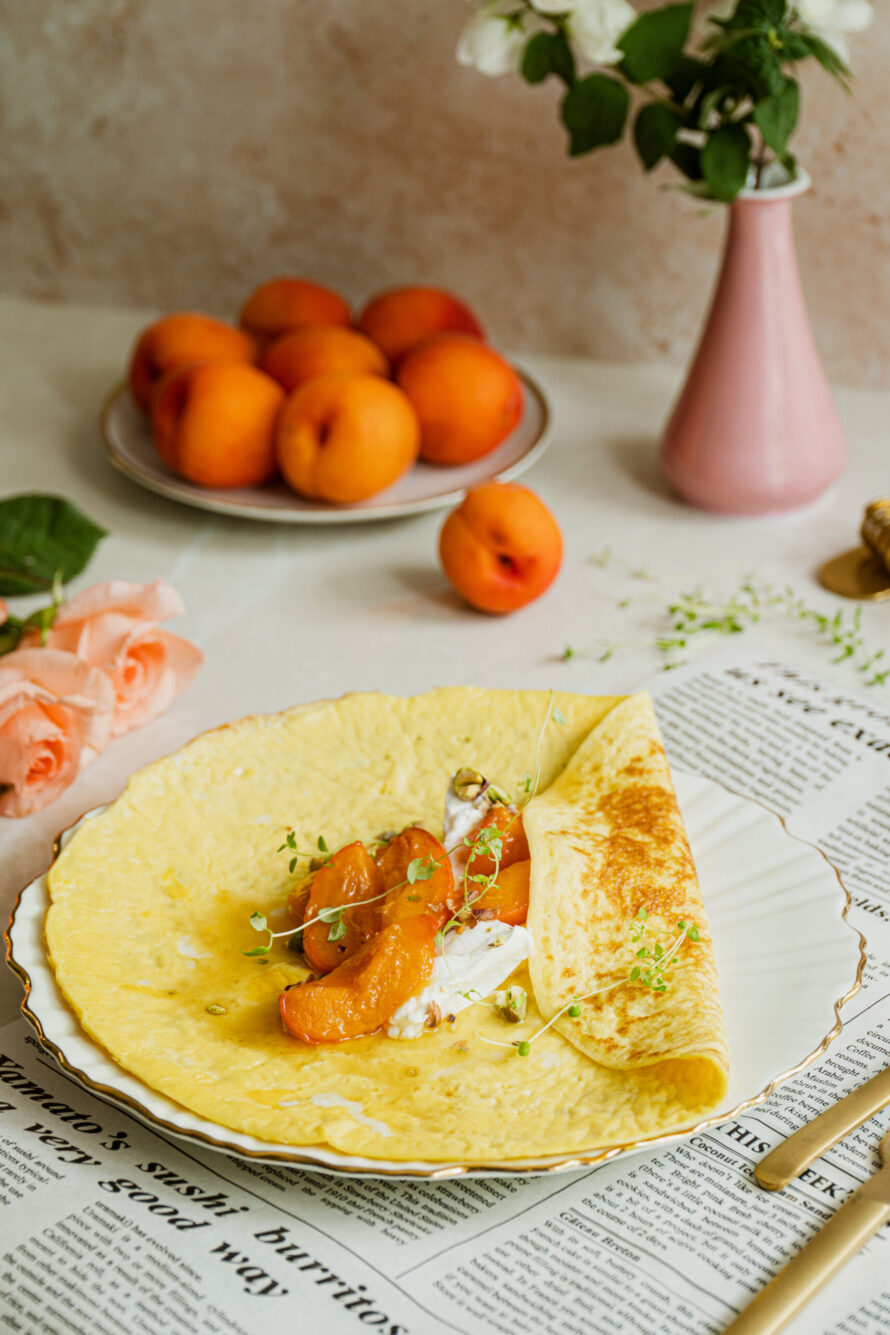 Na omletowy parkiet zostały zaproszone następujące pary i goście: morela z miodem, kozi ser z tymiankiem i pistacje.
Podziwu nie było końca, gdy zaczęli realizować swój układ. Kozi ser rozpływał się pod lekko kwaśną morelą, ta zaś wspierana przez miód nabierała słodyczy, tymianek dawał o sobie znać to tu, to tam, a pistacje całości nadawały charakteru przez swą słoność i chrupkość. Kompozycja idealna, żadnej pomyłki, chce się więcej i więcej takich doznań. 
Dostosuj porcję
2

jajka

2 łyżki

mleka

szczypta soli

odrobina masła
Pozostałe składniki
serek kozi

3

morele

1 łyżeczka

masła

1 łyżeczka

miodu

świeży tymianek

kilka posiekanych pistacji

syrop klonowy
1.
Karmelizowane morele
Na patelni rozpuść masło i miód, dodaj pokrojone w ćwiartki morele i kilka gałązek tymianku. Smaż do momentu, gdy morele będą miękkie i puszczą sok, ale nie będą się jeszcze całkowicie rozpadać.
2.
Omlet
Jajka roztrzep z mlekiem i solą. Na patelni rozpuść masło i wylej masę, podgrzewaj, aż masa jajeczna się całkowicie zetnie, wierzch może zostać lekko wilgotny. Zsuń omlet na talerz. Posmaruj serkiem kozim, wyłóż morele, obsyp pistacjami i ozdób tymiankiem. Na koniec skrop syropem klonowym.